Introduction
Our Code of Conduct outlines how we deal with each other, contractors, customers and suppliers and other stakeholders. It sets the standards and explains what they mean, who can be contacted for help and what can be done if you confront a situation that is in conflict with the Code.
All employees are expected to know the Code, work by it and sign off on complying with it. Failure to comply with the Code may result in disciplinary action which may include termination of employment.
Our partner companies are expected to have a Code of Conduct that is of at least the equivalent standard of our Code.
The Code applies in all jurisdictions in which we operate, subject to local laws and regulations.
We are all, each responsible for understanding and complying with the laws, regulations or policies that relate to our business activities. While it's not practical to cover every situation we face, the Code tells us where we can go for further information and who we can ask for help.  When we are faced with a situation we cannot resolve, we must seek appropriate guidance.
The Code of Conduct should be read in association with our other policies covering safety and wellbeing, privacy and personal information and protecting information.
Commitments under the Code of Conduct
The Code sets out the Company's commitments and the individual responsibilities in ensuring the code is followed.
The Company commits to providing a clear set of policies and standards, to supporting employees with appropriate training, and to creating a positive, supportive, open workplace in which employees feel able to speak up and report issues and concerns.
The company also commits to responding to issues and concerns and to not tolerating retaliation or discrimination against those who have raised concerns.
In response the Company expects individuals, employees and others doing business with the Company to do the right thing, in particular:
Familiarizing themselves with the Code and where they can go for help,
Understanding and complying with the laws and regulations of the Country in which they are operating,
Speaking up when confronted with an issue or concern whether actual or potential, and
Never retaliating against a colleague who is willing to speak up.
For those who are in supervisory positions, additional responsibilities are expected and include:
Setting an example, acting with integrity and maintaining high standards of behaviour in all dealings,
Creating a positive workplace environment where employees feel able to 'speak up', and
Holding yourself and team accountable for violations of the Code.
What to do if I have an issue or concern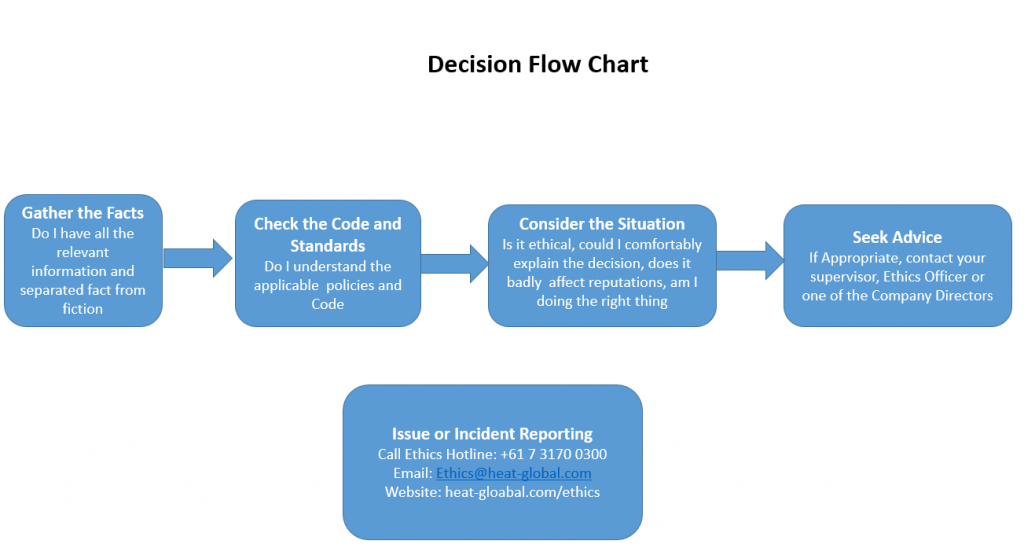 If you are confronted with an issue or concern that breaches the Code of Conduct, than the following simple decision flow chart should be followed:
Resolving the issue can be as simple as speaking with the individual concerned. After working through the flow chart, and if you are unsure whether you should report the concern, definitely seek advice.
If you are uncomfortable to speak with your supervisor or you feel the issue or concern has not been properly dealt with, then go directly to the Ethics Officer or one of the Company Directors.
The HR Manager has the responsibility of Ethics Officer and has the authority to deal with issues directly or raise them to one of the Directors.
Note: All employees, and individuals dealing with the company, have direct access to the Directors on matters that they consider to be in breach of the Code of Conduct. If you have any doubt after working through the decision flow and advice, it is preferred that you report the matter.
Any breaches of the Code should be raised as soon as possible. Whichever way you choose to report, it is important that you do not let concerns go unresolved. If you report apparent misconduct honestly, and in good faith, you will be supported by the Company.
Raising issues and concerns can result in a range of outcomes, including changes to governance practices, training and if a gross violation of the Code could lead to termination.
Questions you may consider when deciding what to do!
Q. Do I have to be absolutely sure that there is a problem?
A. No. If you have a genuine issue or concern or believe that the Code or the law is being, could be or has been, compromised, then it is important that you raise your concern. In such cases, you will not be penalized, even if your concern turns out to be unfounded.
Q. Should I speak to my supervisor before contacting HR Manager (Ethics Officer) or one of the Directors?
A. Supervisors should seek to create an environment in which employees feel comfortable coming to them with questions and concerns. There may be times when you will prefer to speak directly to the HR Manager of one of the directors. HTA are comfortable with either approach.
Q. Can I find out what is happening about my issue or concern?
A. Yes. We will provide you with feedback before closing the issue, although we may not provide all the details due to confidentiality requirements.
Q. Who in the Company will know about my issue or concern?
A. Your details will be known only to those involved in investigating and addressing your issue or concern.
Q. I am not a HTA Employee, with whom can I raise an issue?
A. the issue can be raised directly with the HR Manager, ( Ethic Officer) or one of the Directors.
Q. Do I have to give my name when I report using the hotline or website?
A. No, however we prefer that you identify yourself as it will help with assessing the concerns raised, allow us to seek further information if required and allow you to be provided with feedback on the concern.
Q. Afraid of Retaliation?
HTA takes breaches of the code of conduct very seriously and will not tolerate any retaliation against anyone who raises an issues or concern in good faith. Any manager or employee found to have retaliated against someone who has raised a concern in good faith will face disciplinary action, which could include termination.
By the same token, individuals who deliberately make false accusations will face disciplinary action.
Code Responsibilities
Bribery, Gifts and Entertainment
Standard
We will never offer, give or receive bribes or inducements for any purpose, either directly or through a third party.
Definition and Description
A bribe is defined as any direct or in direct payment, benefit or gift offered, given or received with the purpose of influencing a decision or outcome. Such payments or benefits are not tolerated.  Employees, advisers, consultants, distributors, joint venture partners, offset and industrialization partners, suppliers or anyone else who may be acting on the Company's behalf must not offer, give or receive bribes or corrupt payments.
The payment does not necessarily have to be of large value. It can be as simple as an invitation to a sporting event or an expensive bottle of wine or spirits. The payment or gift can also be made through a third party, for example a business partner or family member.
Each of us is responsible for knowing what our business guidance allows and what the law permits in our country of operation regarding gifts and benefits given to or received from government officials, customers, suppliers or other third parties. If unsure, then advice should always be sort before taking further action. When required, seek approval for a gift or hospitality from one of the Directors or Ethics Officer and ensure it is recorded in the gifts and hospitality register.
Practical examples
Q. I regularly organize conferences for the Company. I was recently offered a free stay in a hotel which was competing for our business. Am I allowed to accept it?
A. No. It is never acceptable to make personal gain out of a business transaction. You should seek guidance from the Ethics Officer.
 Q. I have been given an expensive gift during a business meeting and know that – because of cultural traditions – it would offend the provider if I did not accept it. What should I do with the gift?
A. You should report the gift as soon as possible and ask for guidance. The Company may ask you to return the gift, record it on the gift register or seek the provider's permission to donate it to charity.
Q. Last year we received approval to give a gift to our customer. Do we really need to go through the process of obtaining approval again this year?
A. Even if a gift was approved last year, you do need to seek approval to give something similar again this year. Rules relating to giving and receiving gifts are continually evolving and what is being considered for this year may no longer comply. Our policies also require that certain gifts need prior approval and must be recorded in a gifts and hospitality register.
Q. Our foreign government customer told our subcontractor that for a fee they would make sure that we, and therefore our subcontractor, would win the contract. The subcontractor told us not to worry, they will just list it as a 'services fee' on their invoice. Is this acceptable?
A. No. This would be a bribe. The fact that the subcontractor describes it as a 'services fee' does not relieve us of potential liability, and we will not pay it or become involved in such an arrangement.
Who to Consult
Company Director
Ethics Officer
Facilitation Payments
Standard
We will not make facilitation payments.
Definition and Description
A facilitation payment is a low monetary value payment or gift given (usually to a Government official) to speed up a procedure or approval or to encourage one to be performed.
The concept of a facilitation payment does not include fees required to be made by law such as the payment of a filing fee for a legal document, nor does it include lawful expediting payments that are covered by a formal fee schedule and for which an official receipt is provided. HTA's position on such payments is clear:
we will not make facilitation payments;
we will not allow others to make them on our behalf;
we will report any requests to make facilitation payments; and
we will take action to combat the practice of facilitation payments.
Extortion
We recognize that in some countries, and in certain high-risk circumstances, an employee's welfare and safety could be at risk if they do not make a payment to an official or third party when one is demanded. If you find yourself in this situation, you should never put yourself or others in danger. Make the payment and report it promptly to your supervisor who will report it to one of the Directors.
Disciplinary action will not be taken against an employee who makes such a payment in the good-faith belief that they will be at risk if they do not do so, and reports the incident promptly.
Practical examples
Q. I was told that I could hire a local company or consultant to help get all the necessary permits from a foreign government. An advance payment has been requested to 'help move the process along'. Since I do not really know where the money is going, should I be worried about it?
A. Yes. You are responsible for the actions of any third party working on your behalf. The request for an advance payment is itself a red flag and the comment made about the payment even more so. Consult with supervisor and Ethic Officer before taking any further action. Background due diligence may need to be conducted on the third party.
Q. While on business travel abroad, I was asked by a customs official to make a cash payment in addition to the cost of my ticket. This did not appear to be an official service. Although I opted not to pay, is there further action I need to take?
Yes. Even if you declined, this appears to be a request for a facilitation payment, so you should report the request to our Ethics Officer who will ensure appropriate follow up is undertaken. 
Who to Consult
Company Director
Ethics Officer
Sharing Information
Standard
We actively manage access to information by ensuring it is shared only with those who have a legitimate need to know.
Definition and Description
Sharing information takes many forms and includes conversations on the telephone, in private or in public places, sending emails, instant messages and text messages, storing files in shared working environments, using web-conference services and other online sharing, whether for professional or personal purposes.
Before sharing information, consider:
the sensitivity of the information and who should have access to it and for what purpose;
whether sharing needs prior approval or some form of special protection, such as a non-disclosure agreement;
who is in your meeting, and whether they are authorized to receive the information;
what network area the information should be stored in;
whether the information is appropriate to be shared publicly; and
what the impact to the Company, customers, business partners, suppliers or colleagues would be if the information was shared or made public.
Sharing of export – controlled material requires additional consideration and possible approvals. Consultation with the Director of Corporate and Strategy is required before any information is released.
Take car when you are in a public place – others may be able to overhear your telephone conversations or read from your document or screen. Never leave computers unlocked or documents visible and unattended.
Practical examples
Q. I have been asked to attend a meeting to discuss how the Company governs and manages projects. Is it OK to show participants Company documents at the meeting?
You can share Company information marked as Uncontrolled. However, if the documents you are going to share are identified as HTA proprietary or more sensitive then you should only share in accordance with the IT Information Classification and Handling Policy. If the documents contain customer or business partner information, you must check our obligations under the customer's contract or applicable non-disclosure agreement to see if you can share the information.
Q. I am briefing a group of suppliers on a product which is export controlled but I do not know whether or not there are licenses in place to let me do so. What should I do?
You should only share information controlled by export regulations when you know there are authorizations in place to allow you to do so. You should contact the Director of Corporate and Strategy or IT Manager immediately and should not share or brief any information until it is clear that any necessary export license authorizations are in place.
Q. I am traveling by train to a meeting. Is it OK for me to join a conference call on a business project update?
You can listen to the conversation but should not join the discussion if others can overhear you. It is important to be careful when taking calls in public spaces.
Additional Information
IT Security and Acceptable Use Policy
IT Information Classification and Handling Policy
Who to Consult
Director of Corporate and Strategy
IT Manager
Conflicts of interest
Standard
We will declare and seek direction on any issues that may potentially conflict with our responsibilities to the Company.
Definition and Description
Conflicts of interest are situations in which competing interests may impair our ability to make objective and unbiased business decisions on behalf of the Company.
When a conflict of interest (or even the perception of one) arises it can cast doubt on our integrity and could damage the Company's reputation. These situations can take many forms, including managing or making the decision to hire a close friend or family member, having a second job, holding financial interests in suppliers or competitors. We may serve on the boards of community, government, educational, civic or other non-profit organizations, but only if our participation does not interfere with our duties as an employee. Not all personal interests, relationships, influences or activities automatically create a conflict of interest. Employees should exercise good judgement, taking into account all relevant factors. Potential conflicts of interest should be avoided or carefully managed. In all cases potential or actual conflicts should be declared to the Ethics Officer as soon as you become aware of it. The issue will be discussed in a straightforward manner and addressed as soon as practically possible. Actual conflicts of interest will be recorded and, if the conflict cannot be removed, remedial steps will be put in place.
Who to Consult
Ethics Officer
Bidding and Contract Negotiation
Standard
We will always behave ethically when competing for customers' business and when engaging with customers, customer authorities, suppliers or offset and industrialization partners.
Note: The Directors and Branch Managers are the personnel authorized to bid and negotiate contracts.
Definition and Description
Honesty, integrity and openness underpin our approach to doing business. The following principles will be applied when we are bidding for, or negotiating, a contract:
we will not knowingly make any untruthful or inaccurate statements, communications
or representations;
we will disclose information required by law or regulation;
we will observe the laws, rules and regulations that apply to procurement activities;
we will not solicit or accept information on a competitor's bid or proposal that we know to be proprietary or restricted from disclosure by law or regulation or that could create an actual or perceived conflict of interest; and
we will ensure offset arrangements comply with all export control laws and regulations.
Competition and anti-trust
Competition and anti-trust laws prohibit anti-competitive behaviour. They are complex and context specific. In all Company matters:
we will comply with competition and anti-trust law;
we will not discuss pricing or other commercially sensitive information with competitors in breach of competition and anti-trust law;
we will not engage in any form of discussion, correspondence, agreement or understanding with a competitor or potential competitor to fix prices, rig bids, allocate customers or markets.
or restrict supply in breach of competition or anti-trust laws. We will immediately cease communication with any competitor or potential competitor that seeks to engage with us on such issues;
we will report any potentially anti-competitive activity and enquiries made to us in connection with such activities to the Directors; and
we will seek guidance in the first instance from the Directors in respect of any question as to the applicability of competition and anti-trust law.
Addition Information
Conflict of Interest policy
Gifts and Hospitality policy
Who can I talk to?
Branch Manager
Company Director
Ethics Officer
Working with Advisers
Standard
We will only appoint advisers of known integrity, and we will require that their conduct meets our standards at all times.
Note: The Company Directors are the only personnel authorized to appoint and sign contracts with Advisers.
Definition and Description
The Company sometimes uses advisers – such as consultants, marketing representatives or distributors to give guidance on our strategic approach in a particular country or to assist in marketing our services. Their role may, among many other activities, include providing us with general advice about the local business environment, assisting in discussions with Government officials or supporting offset matters.
There are a small number of employees who work with advisers. All dealings with advisers or consultants must comply with our policy on dealing with contractors and advisers. We demand that all of our advisers, consultants and distributors comply with our Code of Conduct, policies and the local laws and regulations that govern their activities. If we are ever aware of any possible violation of these policies, laws or regulations by an adviser we must report it to one of the Directors or the Ethics Officer.
Who to Consult
Director of Corporate and Strategy
Ethics Officer