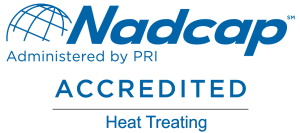 Nadcap Accreditations are process based, this means unlike AS9100 and ISO9001 which predominately audit and maintain the management performance of a business, Nadcap looks strictly at the process and the variables that surround each specific step in the process.
The criteria for Nadcap ascertains the conformance to agreed practices by industry / OEM'S and regulatory bodies and checks practices against dictated requirements.
HTA Group currently holds the following Nadcap Accreditations:
Due to the current world pandemic, HTA has been granted extensions for both Australian Aerospace & Defense sites. If you require more information, please contact us.
Aerospace and Defense Pty Ltd (QLD, Australia)
Download NADCAP (Heat Treating) Certificate (PDF)
Download NADCAP (Heat Treating) Scope (PDF)
Aerospace and Defense Pty Ltd (VIC, Australia)
Download NADCAP (Heat Treating) Certificate (PDF)
Download NADCAP (Heat Treating) Scope (PDF)
Aerospace and Defense Pty Ltd (LA, United States)
Download NADCAP (Heat Treating) Certificate (PDF)
Download NADCAP (Heat Treating) Scope (PDF)